(Family Features) Closet designer may not be a title on your resume, but deep down you may find talents you never knew existed. Whether you are laying out the perfect closet or organizing your belongings, these tips will guide you toward creating a truly stylish and functional space.
Floor Plan
When designing your closet, it is easy to forget important features. That's why it's helpful to start with a blueprint that displays every element of your space. A tool such as the Wellborn Cabinet Closets Planning Guide takes you step by step to lay out your floor plan, figure out how much space is needed and decide what accessories to add. The sketch helps guide you to consider details like outlets, ceiling heights, doors and laundry units, which are easily overlooked when designing.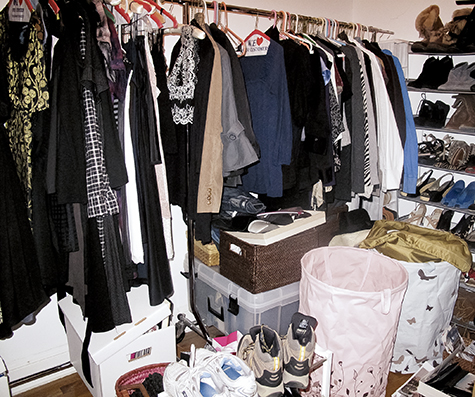 Accessory Options
A closet makeover is meant to transform your cluttered storage space into an organized room where it's easy to store, hang and hold your personal items. As you explore the accessories and options you'll integrate into your design, keep convenience in mind. For example, tilt-out hampers from Wellborn Cabinet, Inc. are ideal for storing your dirty clothes instead of leaving them strewn across the bedroom floor. Clever solutions like wardrobe tubes can be installed in between the walls to hold your dresses, pants and shirts. For some shine and texture, look at options such as metal accessories to keep your ties color coordinated. Don't forget to add small shelves to keep your shoes from cluttering the floor.
Organization
There's no right or wrong when it comes to storing clothing, but the majority of people choose to hang shirts on the top closet rod and jeans and shorts on the bottom rack. One essential key to a well-organized closet is good quality hangers that will eliminate the hassle of clothing falling off into a messy heap. To ensure you can always find the clothing you need, create a hanging system that works for you, such as hanging items according to the color or weight, or both. When it comes to shoe cubbies mounted on the wall, place all your boots, loafers, heels and sandals together to keep them off the floor and give you an at-a-glance perspective of each type of footwear you own.
Maintain Cleanliness and Organization
After the organizing work is done, the key is maintaining this project you worked so hard to complete. Set aside a couple of days a week to walk into your closet, not to pick out a trendy outfit to wear, but to maintain the clutter and dust. Since your wardrobe isn't all worn in one day, dust builds up and spreads throughout your shoes, hats, purses and clothes. Run a duster through your closet at least twice a week to maintain the dust-free zone. The other issue will be keeping clothes on their hangers. When trying on outfits, avoid the temptation to toss discarded items on the floor and instead, put them back on the hanger in the correct section of the closet. With a little self-motivation, the organized closet can remain as neat and clean as it started.
Find the Closet Planning Guide along with more inspired ideas to create the closet of your dreams at wellborn.com.
Photo courtesy of Getty Images (Disorganized closet image)